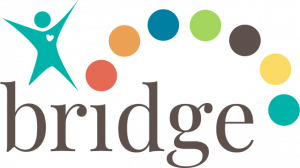 The Bridge Community Programs were developed by the Clinical Team at the Little Warriors Be Brave Ranch, in collaboration with Safe Places.
Through community consultation and stakeholder engagement, we landed on a vision….to create an online module-based program addressing multiple topics of interest that we can make available to as many youth as possible. The online program provides information, resources, tools and support services in an interactive, age appropriate way
Bridge Community Programs.
Bridge Adolescent Program for 12-17 years old (Group & Individual learning formats)
Bridge Children's Program for 8-12 years old (Group & Individual learning formats)
T
he Group Programs can be delivered by
Youth Service providers, professionals, educators, counsellors, trained facilitators and more. The individual programs can be accessed independently by any youth, caregiver and service provider with an interest, need or want.
Each program is designed to be developmentally appropriate for the target age group addressing various themes.
A
lthough an age range has been specified the program may be suitable for youth outside of this age group depending on their developmental needs or situation
.
Modules of Learning.
Mental Health, Self-Care and Wellness, Mindfulness and Movement, Gender & Diversity, Mind & Body, Relationships, Drama & Conflict,, Sexuality & Sexual Safety, Abuse, Trauma & Stress, Internet Safety & Trafficking, Addiction, Self-Harm, Suicide, & Eating Disorders, And More ……………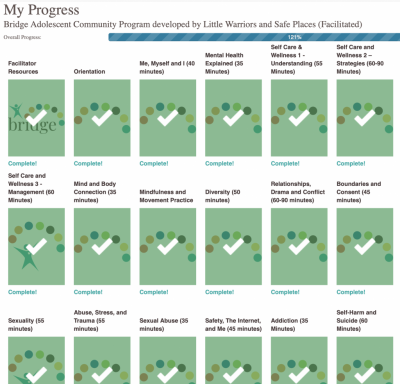 BRIDGE. CHILDREN'S. INDIVIDUAL
I want to support a child working through the program
COMING SOON

BRIDGE. CHILDREN'S. GROUP
I want access to deliver to a group of children
COMING SOON

Thanks
Little Warriors and Safe Places would like to extend a big Thank You to Chinook School Division and their school counsellors, along with other Saskatchewan and Albertan partners and youth for reviewing and piloting the program. The feedback related to the content, format and support structure needed to implement this program has helped shape a program that we can all be proud of.
Thanks to our funding partners we are able to offer this program at no cost.