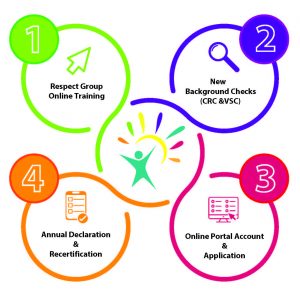 Safe Places is a City of Swift Current initiative that began in 2016. with the intent to improve the services and support offered to youth in our community. The very first initiative we launched was Safe Places- Youth Certification. This program was implemented to improve quality programming while reducing the potential risks to children and youth.
Successful applicants receive a Safe Places – Youth Certified I.D number and certificate which is valid for 4 years. All Youth certified Individuals appear in our online Public Directory
We encourage all Youth Service Providers to mandate Safe Places in our community and encourage anyone working or connecting with you to become Youth Certified.
Safe Places can and has been implemented as a best practice for communities and organization provincially and nationally.

WE ARE GRATEFUL
We are grateful for our partnership with Respect Group for guiding our process and the support we have received throughout the implementation of Safe Places.
"I am so proud of the City of Swift Current for taking this leadership with the Safe Places – Youth Certified initiative. It truly is an important and unique approach to community-based child protection and I applaud all partners who are involved. It has put Swift Current 'on the map' in terms of being the first Canadian city to strongly promote screening and training for all community-based organizations/individuals working with youth. Congratulations!"